Mobilink Jazz 3G Packages Daily, 3 days, Weekly and Monthly

Mobilink is the name which doesn't need any kind of introduction for readers. This telecom service is serving mobile network facility in Pakistan from last many years and customers always believe on this telecommunication hence they always prefer to get a connect of Mobilink Jazz to communicate with his friends through cellular phones. This telecommunication provided an internet revolution in Pakistan from launching 3G technology for all the mobile users and now they are providing 3rd generation internet facility all over in Country with affordable charges. This telecommunication claims that they have largest 3G serving network service of Pakistan and PTA also verifies his claim that is one of the largest 3G networks of Pakistan and all the regions and rural areas people can easily facilitate with his phenomenal 3rd generation internet service to avail on regular basis.
If you are in living in villages of Pakistan and also need quality of internet feature to use so time has reached with correctly now you can enjoy fast internet service to communicate with your friends or someone special by using Mobilink Jazz 3G Packages. Mostly people think 3G facility is such an expensive for middle class or lower class people and they don't consider to avail this quality of facility for internet usage so this is completely incorrect and rumor for customers this telecom provides reasonable charges 3G offers for his valued customers and all kinds of people cooperate person, office workers, house wives and students can easily utilize Mobilink 3G Packages to enjoy highly speed internet feature without any issue. Now we guide you some amazing 3rd generation offer of this telecom company.
Mobilink Jazz Late Night 3G Internet Offer:
To get this offer just need to dial 114*14# and press call button.
The time duration of this deal between (2:00 am to 8 am).
Subscribers get 500 MBs data in this deal.
The charges of this facility are RS 15.
Subscriber can get status code of that deal by dialing *11414*2#.
This validity of that feature is for a day.
Mobilink Jazz Daily 3G Packages:
This telecommunication is providing quality of daily 3G buckets for consumers. All the cellular users who want unlimited internet bundles in his cellular phones to avail on daily basis so they can subscribe various types Daily 3G Packages of Mobilink Jazz.
To activate daily 3G buckets daily lite just dial *117*11# and press call button.
Subscribers will receive 50 MBs 3G data net buckets to utilize for a day.
The subscription charges are just RS 12.
To check status code of that deal by dialing *117*11*2#.
One day validity available of this offer.
Mobilink Jazz 3 Days 3G Packages:
This is unique feature has launched for its customers from this telecommunication side. Mostly they provide an offer with daily and weekly basis but this is something new and unique they have created 3 Days 3G Packages of Mobilink Jazz for subscribers to avail with correctly. They have separated three days features with two different volumes of 3G buckets.
3-Day Lite:
Customers can activate this feature just dial *117*1# and press call button.
The charges of 3Day lite bucket is RS 20.
Subscribers receive 100 MBs data buckets to avail for three days.
To view bundle status just dial *117*1*2#.
The validity will remain for three days into customers account.
3-Day Smart:
Consumers can subscribe this facility just need to dial *117*4# and press call button.
The charges of that deal are RS 35
Subscribers will get 200 MBs bucket to enjoy for three days.
Consumers can view bundle status and information just dial *117*4*2#.
The validity of this service is for next three days.
Mobilink Jazz Weekly 3G Packages:
There are many cellular users who just want a single offer to utilize for a week because they don't want to activate packages on daily basis this is really tough for some busy persons so this an issue has sorted out from this telecommunication side and they have launched three classical default Weekly 3G Packages of Mobilink Jazz for his valued customers all over in Pakistan. We provide you complete details of various weekly buckets of this network service. You can get information as below.
Weekly (Lite)
Weekly (Smart)
Weekly (Heavy)
Weekly Lite:
The subscription process is simply just need to dial *117*3# and get this facility.
The charges are affordable you can avail this service in just RS 50.
Subscribers receive 300 MBs data volume to utilize for a week.
This is weekly subscription feature.
Customers can check status of bundle by dialing *117*3*2#.
Weekly Smart:
Consumers can activate this feature by dialing *117*7# and press call button.
The charges of that deal are RS 75 for a week.
Consumers receive 750 MBs buckets to avail for seven days period.
Consumers can view & check bundle status by dialing code *117*7*2#.
This facility will available for a week in subscribers account.
Weekly Heavy:
Customers can get this deal by dialing *117*77#.
The subscription rates are RS 120 for usage.
Subscribers will receive 1500 MBs data in this feature.
Dial *117*77*2# to view status bundle of feature.
This validity will be available of this service for seven days.
Mobilink Jazz Monthly 3G Packages:
This telecommunication has countless cooperate users in Pakistan and the basic reason behind this they always provides an exceptional and easiest features and deals for his valued customers. They have launched such an amazing 3G bundles to avail for a month with correctly of consumers. Now you can take advantage multiple Monthly 3rd generation internet deal of this network service. You can check various monthly 3G packages of Mobilink Jazz as below with complete information.
Monthly Lite
Monthly Smart
Monthly Heavy
Monthly Lite:
Subscribers can get this bucket to utilize by dialing *117*31#.
The charges to avail monthly lite of Jazz are RS 300.
Users receive 2048 MBs 3rd generation internet facility in this offer.
The validity will be remained in account for thirty days.
Subscribers can check status of bundle by dialing *117*31*2#
Monthly Smart:
Subscription process is very simple just dial *117*30# and press call button.
The rates of activation are RS 500 of monthly smart.
After activation you will get 4500 MBs data to avail for 30 days.
Users can check and view status of remaining bundle by dialing *117*30*2#
This is monthly base subscription offer of this telecommunication.
Monthly Heavy:
Consumers can activate this offer very easily dial code *117*32# and press call button.
The charges will be deducted from users accounts are RS 1195.
Users get 12000 MBs data bundles in this offer.
This is monthly base deal for subscribers.
To view status of bundle dial *117*32*2# and press enter.
Further Information:
There are no charges to check status of bundle via using codes.
Prices are inclusive of applicable taxes. (If any).
All the features don't activate automatically need to re-activate if you want to use once again.
If users are not activated to any 3G buckets so they will be charged according to default rates PKR 21.51 per MB.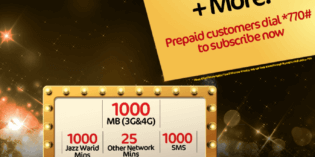 Mobilink is launching weekly plus gold offer to use various telecom facilities for a week. It has launched Jazz Weekly gold plus offer for making almost unlimited phone calls on Jazz/Warid numbers through this offer and it is also providing some free calling minutes to call on any local network connections of Pakistan. It is […]